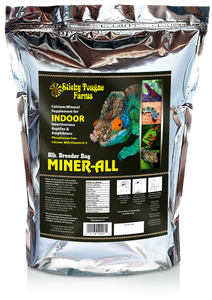 The breeder bag version of Miner-all is a whopping 8-pounds! You save over $103 when you buy a breeder bag, versus the equivalent number of 6-ounce cans. That's 48% off the retail price!
Formulated for indoor animals

Premium quality ingredients

Includes over 50 vital minerals

Human-grade, non-toxic
Choosing the right supplement is important to your pet's overall health. Our human-grade calcium and mineral supplement, Miner-All, has been helping reptiles and amphibians thrive for over 26 years. We have been told by some of the best breeders in the world that our products are the top supplements on the market!

We understand that the right nutrients can make a big difference in your pet's health. That is why our products contain over 50 minerals that are crucial to their well-being. Miner-All Indoor (with D3) is scientifically formulated for reptiles and amphibians who live indoors or never get unfiltered sun. It is ground to a micro-fine powder so it sticks to feeder insects of all sizes. The high quality of our premium ingredients means they are absorbed by reptiles and amphibians more efficiently than competing products, which has been demonstrated in a commissioned laboratory study.

Give your pet the nutrients they need to live a long, healthy, and happy life!
Shake the can to blend ingredients.
CARNIVORES: Place feeder insects into a plastic bag or bucket and shake gently until completely coated.
HERBIVORES: Sprinkle 1/2 teaspoon over one pound of fruit or vegetables.
HATCHLING TO HALF-GROWN: Use every feeding.
HALF-GROWN TO SUB-ADULT: Use every second feeding.
ADULTS: Use every third feeding.
BREEDING ADULT FEMALES: Use every second feeding.
Calcium carbonate, Dextrose, Zinc Sulfate, Manganese Sulfate, Magnesium Oxide, D-Activated Animal Sterol (source of Vitamin D-3 Miner-all indoor only), Iron Sulfate, Ethyione Diamine, Dihydriodide, Cobalt Sulfate, Sodium Selenite, Iron Oxide, Aquatic Vegetation.
GUARANTEED ANALYSIS PER KILO OF MINER-ALL:
Calcium Min 34% Max 36%, Vitamin D3 4,400 I.U., Manganese 453.66 mg, Zinc 544.39 mg, Iron 136.10 mg, Copper 113.42 mg, Iodine 36.29 mg, Cobalt 3.63 mg, Magnesium 453.66 mg, Selenium 11.023 mg.
Not for human consumption.